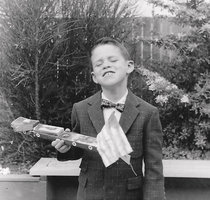 I became collector of urban flotsam at a very early age. As a young lad I made a habit of always looking down, picking up rusty bits and oddments. These bits wound up in uncategorized boxes that my mother mercifully allowed me to keep. My grandmother, out of necessity, saved and brilliantly reused everything, made something from nothing, and I like to think that somehow I have channeled this family trait into a slightly different direction.
Through adulthood I kept collecting and eventually I figured out what to do with this ever increasing amalgam of miscellany. Over the past ten years I have focused on found rusty wire as primary source material. Most pieces start out as a three dimensional abstract wire drawing with details added later. These details include found objects and always small wire artifacts accented with laminated paper.
I tend to let the wire tell me where it wants to go and when we have a strong disagreement it will usually poke me and occasionally draw blood. Yep, my tetanus vaccines are always up to date. I work simply, joining each segment of wire by hand without benefit of a weld or braze.
While the end result is important, the hunt for raw materials— along roadways, railways, beaches, flea markets, construction sites—is still what drives me and keeps me connected with my inner six year old that always looked down.
I live, work and play in San Jose, California.